SUSTAINABLE URBAN
DEVELOPMENT STRATEGY OF CHANIA
The vision for the Sustainable Urban Development Strategy intervention area is:
"The Revitalization of the Urban Center of Chania
in terms of sustainability - social cohesion."
A competitive center of economic development, in terms of scope, variety and specialization of activities.
A center of high-level services, core of tourist - cultural and educational activities with a development pole in the Old Town and the utilization of the comparative advantages of the wider area
A quality housing area through interventions aiming at social cohesion and the improvement of the urban environment.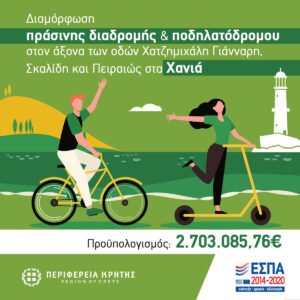 6ε-εργ
Investment Priority 6e |
Budget: 2.703.085,76€
Subscribe to our Newsletter
Fill in your e-mail and stay informed about all the projects of VAA Chania.